L'Oreal's new app can accurately show hair color result before application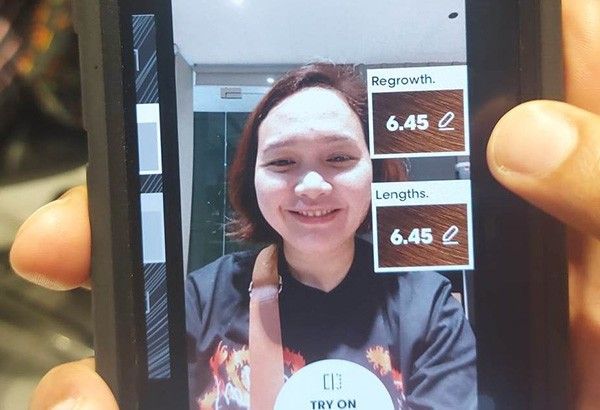 MANILA, Philippines — Always worried about what your hair color would look like after application?
International beauty brand L'Oreal recently launched in the Philippines its new Inoa mobile app that enables its hairdressers and customers to view a hair color's accurate result real-time before having the color applied on hair.
Jessie Adora, L'Oreal Philippines' Professionnel Products Division Head of Marketing and Education, said the new mobile app is believed to be the first of its kind. She described it as "experiential" as it allows virtual try-ons. The app was first introduced exclusively in the brand's partner salons.
"Kasi that's usually the worry – bagay ba 'to sa'kin? Would it look good? This (app) would help remove that worry," Adora told Philstar.com in an interview exclusive.
Apart from helping hairstylists and customers visualize their desired hair color effect beforehand, the app provides stylists with the exact hair color formulation they have to prepare to achieve the results showed by the app.
"It's a lot of color theory, but we've made it friendlier for our stylists through the application," Adora said.
Jayson Jaime, L'Oreal Philippines Education Manager, told Philstar.com in a separate interview that the app is a big help for hairdressers like him.
Inoa, the company's most premium hair coloring line, has no Ammonia, making it L'Oreal's safest and gentlest formulation for hair because too much hair color can be damaging, said Adora.
"The reason why you should avoid Ammonia also is because it's not as gentle into your hair and even in your scalp. (That's why) when you do bleaching, people with sensitive scalp feel a burning sensation," she explained.
"The Ammonia kasi, what it does, it opens your cuticles so harshly, (but) with oil, it's much kinder," Adora said of Inoa's new formulation now made better with 60% oil base and removed wax additives, making the hair color much kinder to the hair.
Adora said the new formulation is vegan because the oils were not derived from animal products or animal-derived products.
"It's the only formulation in the market that uses 60% oil, and then the rest of 30% is actually focused on color, it's so highly pigmented. Other formulations would have very low oil and then they're all like additive waxes, some would have water, etc. So… (their) formulation is not as clean."
Inoa also boasts of seven new shades – ash, browns, coppers and reds – with bold coppers and reds as among this year's hottest trends, Adora noted.
Because it is ammonia-free, Inoa provides "optimum scalp comfort," is safe for use even by pregnant women and those with sensitive skin as it has less risk of giving allergic reactions, said Adora.
"It's a luxurious experience. You don't feel the harshness," she assured.
Ammonia gives hair color its strong smell, so without it, hairdressers and their clients would not have to worry about a smelly salon if they are using Inoa, said Jaime.
"It's a permanent hair color with no odor and full coverage on gray hair. It gives off a luminous, fashionable color," he affirmed.
RELATED: Lovi Poe collaborates with jewelry brand; walk in stylish comfort in these summer-ready outfits