Netflix unveils must-watch Filipino titles this Christmas season
September 24, 2023 | 12:00am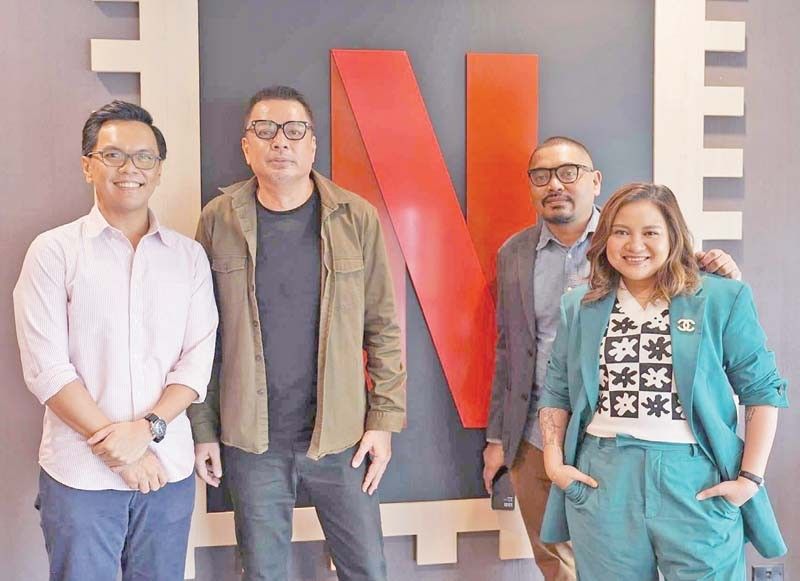 Wondering what Filipino movies or series to watch on Netflix this holiday season?
Netflix has just unveiled its lineup of local titles in time for the yuletide period.
During Netflix's See What's Next: Philippines 2023 launch held recently, the streaming platform released their first-ever station ID featuring the stars of their upcoming Filipino titles. These include Belle Mariano and Donny Pangilinan for Can't Buy Me Love, Zanjoe Marudo and Elijah Canlas for Keys to the Heart, and Piolo Pascual, Alessandra de Rossi and Sam Milby for Replacing Chef Chico.
The actors of Netflix's previously released movies, such as Miles Ocampo, Kelvin Miranda and Chie Filomeno of Missed Connections; JM de Guzman of What If; and Lovi Poe and Carlo Aquino of Seasons also appeared in the station ID video.
What If had reached the No. 1 spot on Netflix shortly after its release. The film director Manny Palo (100 Days to Heaven, Momay, The General's Daughter, and Unbreak My Heart) shared in a press conference the reasons why What If is a good movie to watch with loved ones this Christmas.
"We all know that we have the longest Christmas season, right? It starts in September and even extends to the first week of January… Christmas is about family, familial love, friends and it's during (this) season when we try to evaluate the life that we had the past year, the milestones, failures, disappointment," he pointed out.
"Just like in our film What If, when they (characters) were in this idyllic island, that was where their issues and their love story unfolded. During Christmas, it also happens to us, right? So, I think it's a good time to watch our film during this season because this is the time when we go back to (the events) of the past year not only with our partners and lovers but also with our friends and relatives, especially (if we reflect about it), until the New Year."
Part of that "looking back" is asking oneself, "What if? What if iba ang nangyari in our lives in the past year? What if I did this or I didn't do this?" direk Manny said. "So, I think, it's not just a love story. It also helps us reflect on what has happened in our lives in all aspects."
Another local title that will stream on Netflix soon is the Philippine adaptation of South Korea's hit movie of the same title Keys to the Heart. The local version is helmed by direk Kerwin Go (Eskrimadors, Mina-Anud) and also stars Golden Globe nominee Dolly de Leon. It follows the story of an alone and troubled boxer who moves in with his long-lost mother and autistic pianist brother, but must learn to fit in with a family he hasn't known for years.
Since it's a franchise, direk Kerwin admitted there was a "pressure on our part to execute it well."
Nonetheless, Keys to the Heart is "suitable for pre-holiday viewing because it's a family dramedy," asserted direk Kerwin.
"I think it's equal parts drama and comedy and it's a celebration of family. It's not just about the conventional family. It's also about the unconventional family, meaning blended families. It could be families that you adopt, friends who become families, your neighbors who actually just become as important to you as your family," the filmmaker added.
The series Replacing Chef Chico, directed by Dan Villegas (The Breakup Playlist and On The Wings of Love) with Antoinette Jadaone (That Thing Called Tadhana, Fan Girl, and Alone/Together) as the showrunner, will highlight the Filipino cuisine, apart from tackling the themes about love and friendship.
"Replacing Chef Chico is about Ella, the sous chef who takes over Hain's kitchen. I think it's perfect for the Christmas season because on the top level it's about love, friendship and acceptance. I think it's worthwhile to watch, especially during the holidays," direk Dan offered.
Direk Antoinette vouched that Replacing Chef Chico is "perfect to watch with your family, friends and loved ones" because "in every episode there is a story of family, friendship and or love which is celebrated over food. So the milieu, the backdrop of every episode is Filipino food."
"It's about time that Filipino food gets its proper spotlight because as we all know there's Vietnamese food, Thai food, Indian food but we have yet to get the same celebration for Filipinos," she continued.
"So, it's a Filipino-produced original Netflix series. It's a celebration not just of family, friends or love but us Filipinos will be celebrating the Filipino food that we (eat) each day. And when other countries watch the series, they will also feel it when they see it."
Meanwhile, the fans of the DonBelle loveteam can look forward to their series-starrer titled Can't Buy Me Love, which begins streaming on Oct. 13. It is directed by Mae Cruz Alviar (Crazy Beautiful You, Four Sisters Before the Wedding and Can't Help Falling In Love).
In the series, Donny plays Bingo, a popular online seller juggling different jobs, while Belle plays Caroline, who hails from a traditional wealthy Chinese family.