Climate campaign and actions
+ Follow Story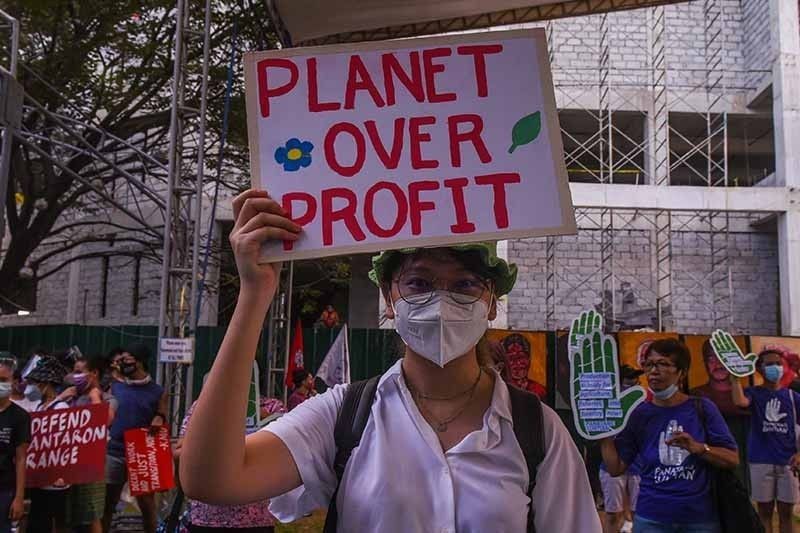 June 3, 2023
Celeste Saulo, the incoming head of the UN's weather and climate agency, says she would fight with a passion to combat climate change and its negative impacts on people's lives.
In an interview with AFP, Saulo, who has run Argentina's National Meteorological Service since 2014, voiced deep concern that some countries were not getting the message about the effects of pumping ever more greenhouse gases into the atmosphere.
But the next head of the World Meteorological Organization insisted it was not too late to change how the climate crisis story ends.
May 31, 2023
The World Meteorological Organization, which plays a critical global role in tracking climate change, chooses a new leader this week to turbocharge that work over the next four years.
The Geneva-based WMO's role in climate change has become increasingly prominent and the new secretary-general will likely become a well-known advocate on this pressing world issue.
Four senior figures from within the WMO have put themselves forward for Thursday's vote, including two seeking to become the first woman to run the United Nations agency for weather, water and the climate. — AFP
May 27, 2023
An experiment unfolds deep in the Amazon that may allow a peek into the future to see what will happen to the world's largest rainforest when carbon dioxide levels rise.
It is a simulation to see how the lungs of the world will endure global warming.
The AmazonFACE project, co-financed by Brazil and the United Kingdom, is "an open-air laboratory that will allow us to understand how the rainforest will behave in future climate change scenarios," says Carlos Quesada, one of the project coordinators. — AFP
May 26, 2023
Most oil majors are stepping up investment in green energy amid rising activist pressure but without abandoning fossil fuels, putting at risk reaching carbon neutrality in 2050.
During the annual shareholders' meeting of British group Shell on Tuesday, activists shouted out "Go to hell Shell!"
BP got similar treatment, as did banking giant Barclays, which is accused of financing oil extraction. — AFP
May 23, 2023
People on the tarmac at Geneva airport disrupted air traffic Monday, the airport said, as dozens of climate activists blocked a nearby business jet convention.
"Due to the incursion of people on the tarmac, the air traffic has been momentarily disrupted at Geneva airport," according to a tweet by the airport's official Twitter account. — AFP
May 23, 2023
A weeks-long battle against wildfires in western Canada finally reached a "turning point" on Monday with scattered rains reported over hotspots and more precipitation to come, officials said.
The wildfires in Alberta province have displaced tens of thousands of people and scorched more than 945,000 hectares.
"We have received rain, I understand, on almost every wildfire that's currently burning in the province except those in the far north," Christie Tucker of the Alberta Wildfire agency told a briefing.
"This could be a turning point for the firefighters working out there on the fires," she said. "It will offer them a chance to make real progress on controlling these fires."
The precipitation started Sunday and was forecast to continue.
"It is not the sustained soaking rain we so desperately need," said Bre Hutchinson, head of the Alberta Emergency Management Agency.
But it has helped reduce to 77 the number of fires still burning, from a recent high of 110. — AFP
May 16, 2023
In a first, US climate scientists have quantified the extent to which greenhouse gasses from the world's top fossil fuel companies have contributed to wildfires.
Their analysis, published Tuesday in Environmental Research Letters, found that carbon dioxide and methane emissions from the so-called "Big 88" firms were responsible for more than a third of the area scorched by forest blazes in western North America over the past 40 years.
First author Kristina Dahl, of the Union of Concerned Scientists (UCS), told AFP wildfires in the western United States and southwestern Canada have been worsening for decades: they are burning more intensely, over longer seasons, covering larger areas and reaching higher elevations.
To date, the cost of rebuilding and increasing resilience has largely been footed by the general public, "so we wanted to better understand the role that fossil fuel industry emissions have had in altering the wildfire landscape," she said.
"We really wanted to put a spotlight on their role in that, so that they can be held accountable for their fair share of the cost." -- AFP
April 26, 2023
Moritz Riedacher sat down at a busy road junction with four other climate activists in southwestern Germany earlier this year, holding up traffic for hours –- an action that landed him a jail sentence. But he remains undeterred.
This week, the 26-year-old journalism student again halted traffic, this time in Berlin where fellow activists in the group Letzte Generation (Last Generation) launched a campaign demanding stronger climate protection policies.
Riedacher, who has not yet been imprisoned pending appeals, is among the first in Germany to land a jail conviction over such protests.
"I find it really, really hard to process the verdict," he told AFP, calling the four-month sentence handed to him this month over the Heilbronn protest "disproportionate".
"It is definitely urgent" for the government to do more for climate protection, he said, pointing to the 2021 deadly flooding in southern Germany.
"We can't say let's just go on as normal. Rather, we need to cause disruptions," said Riedacher.
The controversial tactics of Letzte Generation, from hunger strikes to throwing mashed potato on paintings in museums, has resulted in the group being described by some German politicians as "climate terrorists". — AFP
April 26, 2023
DOST-PAGASA launches a multi-hazard impact-based forecasting and early warning system for flood, landslide, severe wind and storm surge. It is the first Green Climate Fund project in the Philippines.
The project focuses on the preventive aspects of disaster management by communicating what the weather "will do" instead of what the weather "will be." This will enable the public and authorities to take appropriate actions during before a hazard occurs.
DOST Secretary Renato Solidum Jr. says the project will not only increase early action, but also save lives and promote resilient communities. — Gaea Katreena Cabico
April 24, 2023
Environmental activists blocked dozens of streets in Berlin on Monday to protest Germany's climate policy, causing widespread transport disruption in the capital.
"We no longer accept that the government has no plan to stop the destruction of the basis of our existence," Carla Rochel, a spokeswoman for Last Generation, the leading group behind the protests, said in a statement.
Campaigners halted traffic across the city by glueing themselves to the street surface, including on the busy motorway A100.
"Some 33 points" were blocked at 9 a.m. local time, a spokeswoman for the Berlin police told AFP.
Around 500 officers had been deployed to tackle the protests which began around 7:30 a.m., the spokeswoman added.
Activists had "massively expanded" their protests on Monday morning, which began on a smaller scale last week, Berlin's transport information said on Twitter. — AFP
Follow this thread for climate protests and direct action as advocates and activists try to pressure corporations and governments to act to address the climate crisis.
Photo: AFP/Maria Tan, file