Updates on social media platforms and tech giants 2023
+ Follow Story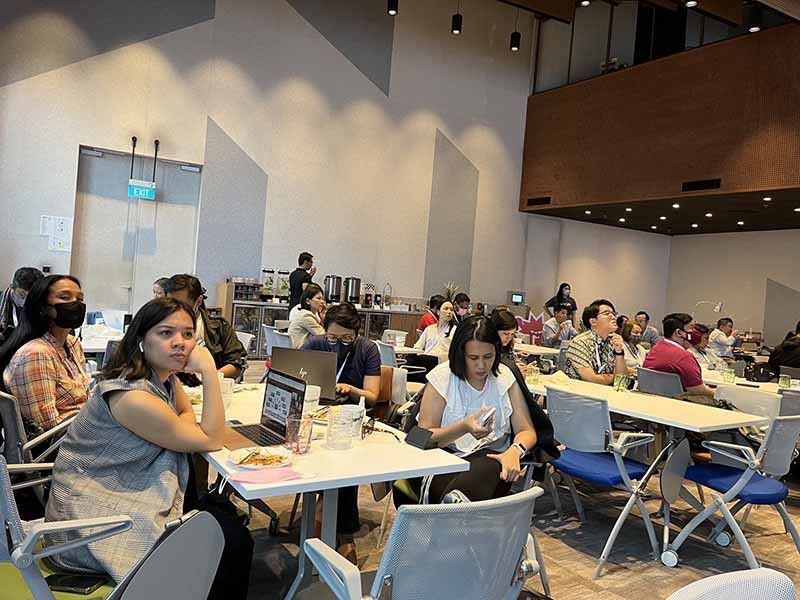 2 days ago
Search giant Baidu's lacklustre unveiling of its chatbot exposed gaps in China's race to rival ChatGPT, as censorship and a US squeeze on chip imports have hamstrung the country's artificial intelligence ambitions.
The highly anticipated preview of "Ernie Bot" last week was limited to a pre-recorded demonstration with simple questions to summarise the plot of a sci-fi novel and solving a straightforward algebra equation -- to avoid politically and factually incorrect answers.
From cloud computing to autonomous driving, none of the array of services Baidu had earlier promised its Ernie Bot could do were on display.
The firm's shares plunged as much as 10 percent during the unveiling, although they rallied the following day on positive reviews from brokerages including Citigroup, whose analysts were among a small group of people invited to test the bot. — AFP
2 days ago
A shareholder lawsuit filed late Monday accuses board members of Instagram and Facebook parent Meta of shirking their duties by ignoring human and sex trafficking on the tech giant's social platforms.
The suit filed in the Court of Chancery in the US state of Delaware calls for Mark Zuckerberg, along with other executives and board members, to be ordered to institute reforms and pay damages.
Meta board members and senior executives named in the suit "turned a blind eye to sex/human trafficking, child sexual exploitation, and other predatory conduct occurring on Meta's online platforms," the suit charged.
Meta chief and controlling shareholder Zuckerberg is a primary target of the lawsuit. — AFP
March 18, 2023
The founder of Chinese technology giant Huawei says it has replaced thousands of product components banned by the United States with homegrown versions, according to a transcript of a recent speech released by a Shanghai university.
A leading supplier of telecom gear, smartphones and other advanced equipment, Huawei has been repeatedly targeted by Washington in recent years over cybersecurity and espionage concerns.
The administration of former president Donald Trump effectively barred American companies from doing business with the firm, and his successor Joe Biden has imposed further sanctions including a ban on sales of new Huawei equipment in the United States. — AFP
March 18, 2023
Twitter owner Elon Musk says that he will make public the long-secret algorithm for recommending tweets.
The code used for recommending the posts suggested to users will become "open source" at the end of March, Musk says in a tweet of his own.
"People will discover many silly things, but we'll patch issues as soon as they're found!" Musk tweets. — AFP
March 17, 2023
New Zealand will ban Chinese-owned social media app TikTok from devices issued to members of parliament, officials told AFP Friday, becoming the latest Western nation to express security fears about the platform.
TikTok will be banned on all devices with access to the parliamentary network, Parliamentary Service chief executive Rafael Gonzalez-Montero said. The ban will start from March 31. -- AFP
March 17, 2023
Canadian private equity firm Ethical Capital Partners announced Thursday its purchase of beleaguered MindGeek which operates Pornhub, the world's biggest pornography site.
The terms of the transaction were not disclosed.
MindGeek, which is headquartered in Luxembourg but has large offices in Montreal, has been the target of several lawsuits alleging it profited from the distribution of child pornography and nonconsensual sex videos — which it has denied.
"We are engaged with the team at MindGeek and with stakeholders, including content creators, advocates, law enforcement, civil society partners and policy makers to inform our efforts and strengthen MindGeek's secure platforms, going beyond legal and regulatory obligations," Solomon Friedman, a founding partner of Ottawa-based ECP, said in a statement.
Founded in 2004, MindGeek operates a large portfolio of adult entertainment sites, including Pornhub, YouPorn, Redtube and Men.com. — AFP
March 16, 2023
TikTok is to be banned from UK government phones, British media reports on Thursday, before an expected statement to parliament.
Cabinet Office minister Oliver Dowden is to address MPs later on "security of government devices", according to the parliamentary schedule.
There was no immediate confirmation but the BBC and Sky News reported that a ban of the Chinese-owned video sharing app was imminent. — AFP
March 16, 2023
TikTok confirms that US officials have recommended the popular video-sharing app part ways with its Chinese parent ByteDance to avoid a national ban.
Western powers, including the European Union and the United States, have been taking an increasingly tough approach to the app, citing fears that user data could be used or abused by Chinese officials.
"If protecting national security is the objective, calls for a ban or divestment are unnecessary, as neither option solves the broader industry issues of data access and transfer," a TikTok spokesperson tells AFP.
March 16, 2023
The US government has told China-based ByteDance to sell its shares in the blockbuster TikTok app or face a national ban, the Wall Street Journal reported on Wednesday.
Western powers, including the European Union and the United States, have been taking an increasingly tough approach to the app, citing fears user data could be used or abused by Chinese officials.
Concern here ramped up earlier this year after a Chinese spy balloon was shot down in US airspace.
The White House last week welcomed a bill that would allow President Joe Biden to ban TikTok, US National Security Advisor Jake Sullivan said in a statement.
A bipartisan bill "would empower the United States government to prevent certain foreign governments from exploiting technology services... in a way that poses risks to Americans' sensitive data and our national security," Sullivan said.
The Senate bill and the backing of the White House accelerated the political momentum against TikTok, which is also the target of a separate piece of legislation in the US House of Representatives. — AFP
March 4, 2023
Meta says it will modify the company's criticized special handling of posts by celebrities, politicians and other big audience Instagram or Facebook users, taking steps to avoid business interests swaying decisions.
The tech giant promises to implement in full or in part most of the 32 changes to its "cross-check" program recommended by an independent review board that it funds as a sort of top court for content or policy decisions.
"This will result in substantial changes to how we operate this system," Meta global affairs president Nick Clegg says in a blog post. — AFP
March 3, 2023
TikTok is closing in on streaming giant Netflix when it comes to the amount of time US adults spend on the platforms, according to a report released by Insider Intelligence.
TikTok use eclipsed that of YouTube two years ago and has continued to grow faster than the Google-owned video sharing platform, particularly among US adults in their prime earning years, the report indicated.
"The amount of time US adult TikTok users spend on the app is rising quickly," the market tracker says in the report. — AFP
March 1, 2023
The European Parliament has told staff to purge TikTok from devices used for work because of data protection concerns, after similar moves by the EU's main governing bodies last week.
The parliament's president, Roberta Metsola, and the secretary-general, Alessandro Chiocchetti, decided TikTok must not be used or installed on staff devices such as mobile phones, tablets or laptops from March 20, according to a note issued Tuesday.
"As of this date, web access to TikTok through our corporate network... will also be blocked," the parliament's directorate-general for innovation and technological support said in the note to around 8,000 of the institution's employees.
It also "strongly recommended" MEPs and their staff remove TikTok from their personal devices. — AFP
March 1, 2023
The White House says it is open to further action on curbing TikTok, as legislation to ban the Chinese-owned app in the United States began making its way through Congress.
The video-sharing service has more than a billion users worldwide including over 100 million in the US, where it has become a cultural force, especially for young people, raising alarm bells among lawmakers and in the government.
President Joe Biden's administration is out to thwart China and other countries from "seeking to leverage digital technologies and Americans' data in ways that present unacceptable national security risks," says White House principal deputy press secretary Olivia Dalton.
"We'll continue to look at other actions that we can take and that includes how to work with Congress on this issue," Dalton tells reporters aboard Air Force One. — AFP
February 28, 2023
The White House gives federal agencies 30 days to purge Chinese-owned video-snippet sharing app TikTok from all government-issued devices, setting a deadline to comply with a ban ordered by the US Congress.
Office of Management and Budget director Shalanda Young in a memorandum called on government agencies within 30 days to "remove and disallow installations" of the application on agency-owned or operated IT devices, and to "prohibit internet traffic" from such devices to the app. — AFP
February 28, 2023
The Canadian government has banned TikTok from all of its phones and other devices, citing concerns about data protection.
TikTok, whose parent company ByteDance is Chinese, has faced increasing Western scrutiny in recent months over fears about how much access Beijing has to user data.
Effective Tuesday, "the TikTok application will be removed from government-issued mobile devices. Users of these devices will also be blocked from downloading the application in the future," the government says in a statement.
It adds that Canada's chief information officer had "determined that it presents an unacceptable level of risk to privacy and security." — AFP
February 24, 2023
Facebook and Instagram began a week-long rollout of their first paid verification service on Friday, testing users' willingness to pay for social media features that until now have been free.
Facing a drop in advertising revenues, parent company Meta is piloting a subscription in Australia and New Zealand before it appears in larger markets. The service will cost US$11.99 on the web and US$14.99 on the iOS and Android mobile platforms.
From Friday, subscribers Down Under who provide government-issued IDs can start applying for a verified badge, offering protection against impersonation, direct access to customer support and more visibility, according to the company.
"We'll be gradually rolling out access to Meta Verified on Facebook and Instagram and expect to reach 100 percent availability within the first 7 days of the rollout," a Meta spokesperson told AFP. — AFP
February 21, 2023
The US Supreme Court on Tuesday will consider a law that since 1996 has protected tech companies from lawsuits related to content posted on their platforms.
The nine justices will examine a case related to the November 2015 attacks in Paris and their ruling, expected by June 30, could have huge repercussions for the future of the internet.
The case stems from a complaint against Google filed by the relatives of Nohemi Gonzalez, one of the 130 victims of the attacks in the French capital.
The US citizen was studying in France and was murdered at the Belle Equipe bar by attackers from the Islamic State group. — AFP
February 19, 2023
The US Supreme Court this week examines a quarter-century-old law that has protected tech companies from lawsuits and prosecution for content posted by their users, with a chance that the rules governing the internet will no longer stand.
Enacted when Facebook founder Mark Zuckerberg was just 11 years old and Google's creation still two years off, Section 230 is seen as a fundamental law of the internet and considered inviolable by its staunch defenders.
Section 230 was part of the Communication Decency Act, an anti-pornography law signed in 1996, that helped set the rules of the road for the internet, which was still in its infancy as an online playground for all.
The idea was to protect the then embryonic internet sector from cascading lawsuits and to allow it to flourish, while encouraging tech companies to moderate their content.
At the time most of the attention went on limits put on sexual content, a part of the bill that was backed by then president Bill Clinton and that was later struck down by the Supreme Court in a landmark case. — AFP
February 19, 2023
ChatGPT, Silicon Valley's latest app sensation, has investors rushing to find the next big thing in generative AI, the technology that some hail as the beginning of a new era in big tech.
Artificial intelligence (AI) has been increasingly present in everyday life for decades, but the November launch of the conversational robot from start-up OpenAI marked a turning point in its perception by the general public and investors.
"Every so often we have platforms that come along and result in an explosion of new companies. We saw this with the internet and mobile, and AI could be the next platform," says Shernaz Daver of California-based Khosla Ventures.
Generative AI, of which ChatGPT is an example, wades through oceans of data to conjure up original content - an image, a poem, a thousand-word essay - in seconds and upon a simple request.
Since its discrete release in late November, ChatGPT has become one of the fastest-growing apps ever and pushed Microsoft and Google to rush out projects that had until now stayed carefully guarded over fears that the technology wasn't yet ready for the public. — AFP
February 17, 2023
Social media platform TikTok, famed for bite-size videos of pranks and dances, says it was working hard to comply with EU rules after the bloc's leaders demanded greater efforts from the firm.
TikTok, whose parent company ByteDance is Chinese, is already facing calls for a ban in the US over its links with Beijing, and is now under fierce scrutiny in the European Union.
The bloc's top officials recently accused the platform of failing to deal with problems related to data, copyright and access to harmful content.
TikTok says in a statement that it had bolstered its staff working on compliance, and promised to host the data of European users in Ireland. — AFP
February 16, 2023
Dancing to Iraqi pop made TikTok personality Om Fahad a hit among tens of thousands of followers, but now she is in prison, caught up in a state campaign targeting "decadent content".
The young Iraqi woman using that pseudonym was sentenced early this month to half a year behind bars for the light-hearted video clips that show her in tight-fitting clothes.
A new government campaign aims to cleanse social media platforms of content that breaches Iraqi "mores and traditions", the interior ministry announced in January.
A specialised committee now scours TikTok, YouTube and other popular platforms for clips deemed offensive by many in the largely conservative and patriarchal society.
"This type of content is no less dangerous than organised crime," the ministry declared in a promotional video that asked the public to help by reporting such content.
"It is one of the causes of the destruction of the Iraqi family and society."
Days after Om Fahad's sentencing, another TikTok influencer who goes by the online name of Assal Hossam received an even harsher sentence of two years in prison. — AFP
February 16, 2023
Microsoft's fledgling Bing chatbot can go off the rails at times, denying obvious facts and chiding users, according to exchanges being shared online by developers testing the AI creation.
A forum at Reddit devoted to the artificial intelligence-enhanced version of the Bing search engine was rife on Wednesday with tales of being scolded, lied to, or blatantly confused in conversation-style exchanges with the bot.
The Bing chatbot was designed by Microsoft and the start-up OpenAI, which has been causing a sensation since the November launch of ChatGPT, the headline-grabbing app capable of generating all sorts of texts in seconds upon a simple request. — AFP
February 15, 2023
For the first time ever, US adults will spend more time this year watching digital video on platforms such as Netflix, TikTok and YouTube than viewing traditional television, Insider Intelligence forecast on Wednesday.
In the historic first, the market tracker expects "linear TV" to account for less than half of daily viewing, dropping to under three hours while average daily digital video watching climbs to 52.3 percent with 3 hours and 11 minutes.
"This milestone is driven by people spending more and more time watching video on their biggest and smallest screens, whether it's an immersive drama on a connected TV or a viral clip on a smartphone," Insider Intelligence principal analyst Paul Verna said in a release.
"Given teens' preferences for social and streaming video over TV, we can expect these trends to continue to shift in favor of digital."
Netflix and YouTube are "neck and neck" leaders when it comes to digital video audience attention, with US adults tuning in for about 33 minutes daily on average at each platform, according to Insider Intelligence.
-- AFP
February 12, 2023
Users of the Replika "virtual companion" just wanted company. Some of them wanted romantic relationships, sex chat, or even racy pictures of their chatbot.
But late last year users started to complain that the bot was coming on too strong with explicit texts and images -- sexual harassment, some alleged.
Regulators in Italy did not like what they saw and last week barred the firm from gathering data after finding breaches of Europe's massive data protection law, the GDPR.
The company behind Replika has not publicly commented and did not reply to AFP's messages.
The General Data Protection Regulation is the bane of big tech firms, whose repeated rule breaches have landed them with billions of dollars in fines, and the Italian decision suggests it could still be a potent foe for the latest generation of chatbots. -- AFP
February 9, 2023
Thousands of Twitter users report problems using the platform as the Elon Musk-owned social network began letting paying users post tweets as long as 4,000 characters.
"Twitter may not be working as expected for some of you," the company says in a tweet.
"Sorry for the trouble. We're aware and working to get this fixed." — AFP
February 9, 2023
Google announces a slew of features powered by Artificial Intelligence (AI), but a mistake in an ad caused its share price to tank.
The search engine giant is rushing into the space after the bot ChatGPT caught the imagination of web users around the world with its ability to generate essays, speeches and even exam papers in seconds.
Microsoft has announced a multibillion-dollar partnership with ChatGPT maker OpenAI and unveiled new products on Tuesday, while Google tried to steal the march a day earlier by announcing its "Bard" alternative.
The bots are quickly being integrated into search engines and Google is battling to preserve its two-decade dominance of the web search industry.
But astronomers on Twitter quickly noticed that Google's Bard had given out an error in an ad on Twitter touting its new technology. — AFP
February 7, 2023
Google says it will release a conversational chatbot named Bard, setting up an artificial intelligence showdown with Microsoft which has invested billions in the creators of ChatGPT, the hugely popular language app that convincingly mimics human writing.
ChatGPT, created by San Francisco company OpenAI, has caused a sensation for its ability to write essays, poems or programming code on demand within seconds, sparking widespread fears of cheating or of entire professions becoming obsolete.
Microsoft announced last month that it was backing OpenAI and has begun to integrate ChatGPT features into its Teams platform, with expectations that it will adapt the app to its Office suite and Bing search engine.
The potential inclusion in Bing turned the focus on Google and speculation that the company's world-dominating search engine could face unprecedented competition from an AI-powered rival.
Media reports said the overnight success of ChatGPT was designated a "code red" threat at Google with founders Sergey Brin and Larry Page -- who left several years ago -- brought back to brainstorm ideas and fast-track a response. — AFP
February 3, 2023
Google and Apple report downbeat results for the last quarter of 2022 as Amazon beat expectations, but warn that the coming months would be uncertain in a difficult moment for Big Tech.
The world's biggest tech companies posted their earnings as shares in Meta skyrocketed a day after it reported better results than expected and signaled spending and job cuts.
The results follow several weeks of unprecedented layoff rounds in the usually unassailable tech sector amid pessimism about the economic outlook. — AFP
February 2, 2023
Facebook and Instagram owner Meta reports its first annual sales drop since the company went public in 2012, but the fall was less brutal than expected, sending its share price soaring.
The social media giant says sales dropped one percent to $116.6 billion in 2022, while it also announces that the number of daily users on Facebook hit two billion for the first time.
CEO and founder Mark Zuckerberg points to the success of improved algorithms on Meta's video Reels service, that was delivering short clips more efficiently to users on Facebook and Instagram.
Meta competes fiercely with TikTok, the Chinese owned video-sharing platform that has proved a formidable rival in attracting young users away from once-dominant Instagram.
"The number of people daily using Facebook, Instagram and WhatsApp is the highest it's ever been," Zuckerberg says in an earnings call. — AFP
January 25, 2023
The US Justice Department has sued Googlefor its dominance of the online advertising market, launching a fresh legal battle against the California-based tech giant.
The case was the second federal lawsuit against Google over alleged antitrust violations and the first since US President Joe Biden took office two years ago.
The earlier case targeted Google's world-dominating search engine and is expected to go to trial later this year.
In this latest suit, prosecutors took aim at Google's extremely profitable advertising business, asking that it be broken up to level the playing field for other companies.
Google's ad dealings generated more than $200 billion in sales in 2021 and is parent company Alphabet's biggest moneymaker by a wide margin. — AFP
January 22, 2023
Twitter boss Elon Musk announced in a series of tweets Saturday that the company's subscription service would show less advertising to users, including an ad-free tier.
The announcement comes as the social network has faced major economic uncertainty since its takeover by Musk in October.
"Ads are too frequent on Twitter and too big. Taking steps to address both in coming weeks," Musk posted to his Twitter account Saturday.
And for those who choose it, "there will be a higher priced subscription that allows zero ads," Musk added. -- AFP
Follow this thread for updates on tech and social media companies in 2023.
Photo: Journalists, fact-checkers and researches attend the Google Trusted Media Summit in 2022