EastWest bags accolade; JCB Credit Card is Asian Banker's Best Credit Card for 2023
September 28, 2023 | 3:00pm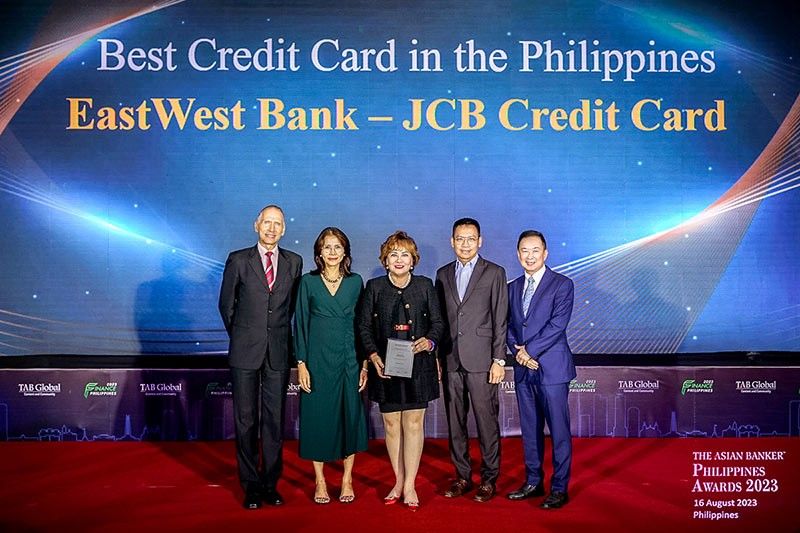 MANILA, Philippines — The Asian Banker, one of the most rigorous, prestigious and transparent country-level award programs for consumer financial services and technology, has named EastWest Banking Corporation's JCB Credit Card as the Best Credit Card in the Philippines in the Excellence in Retail Financial Services and Technology Innovation Award for 2023.
EastWest and JCB International together launched JCB Credit Card, Japan's only international payment brand last November 2022. JCB has not had a partner in the Philippines in 25 years until its partnership with EastWest.
The card offers several rewards such as accumulated reward points that can be redeemed for airline miles, access to JCB lounges in many parts of the world, cash rebates or annual membership fee waiver.
Cardholders can also enjoy year-round special promotions and discounts form partner merchants in-store and online, from shopping and dining to travel and leisure. International purchases are rewarded by even more rewards and a low foreign conversion fee.
"In less than a year, we were able to see good traction which goes to show that we were able to anticipate customer preferences and needs," said EastWest President Jackie Fernandez.
FVP and Credit Cards Business Head Mia Tamayo said EastWest was excited about the partnership with JCB because of its limitless potential.
"For many Filipinos, experiencing the wonders of Japan is a dream, and we want to help fulfill this dream. Partnering with JCB will bring us closer to that, so our customers can finally experience the many reasons why we are enamored with Japan, she said.
"This partnership with JCB came at the right time and this award only goes to show that EastWest really puts a premium on focusing on our customers' dreams," added EastWest EVP and Consumer Lending Head Lawrence Lee.
"I would like to thank the team for the good work that they have done. This is a remarkable achievement, but we have lots more in store for our customers to delight and serve them better," Fernandez added.
Fernandez, Lee and Tamayo were all present at the ceremony to personally receive the award at Fairmont Hotel in Makati last August 17.
---
Editor's Note: This press release is sponsored by EastWest Banking Corp. It is published by the Advertising Content Team that is independent from our Editorial Newsroom.
---