Chase for honors begins
September 24, 2023 | 12:00am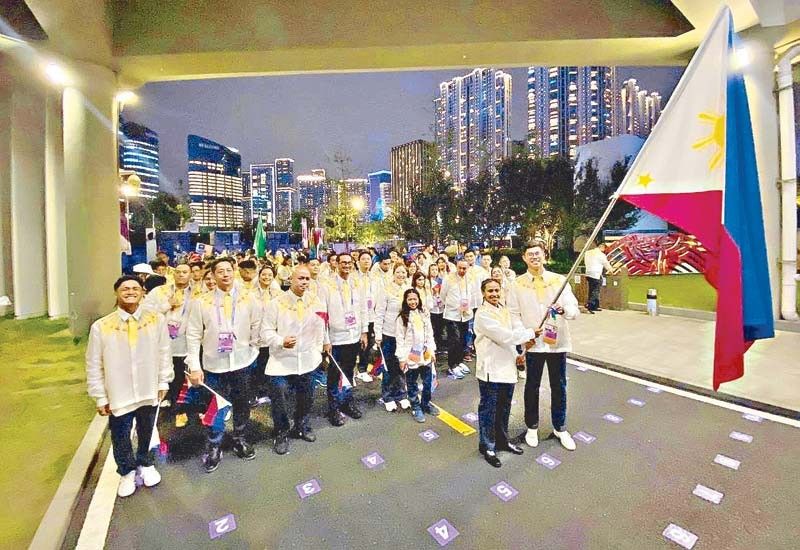 HANGZHOU – After the mind-blowing visual spectacle of Saturday's opening ceremony, members of Team Philippines, both thrilled and highly motivated, will start digging for gold in the 19th Asian Games here.
It will be a very busy day for a small chunk of the 395-strong Team Philippines as the Games, which attracted a record number of 12,417 participants, puts 31 gold medals at stake. Overall, 25 sports disciplines will be played in the first full day of action.
Fourteen Philippine athletes will be in the medal hunt while the rest will try to move forward or avoid early elimination.
Action in this third Asian Games hosted by China actually began as early as four days ago. But the first of the 481 gold medals up for grabs will only be decided today, another cloudy day based on the weather forecast.
Filipinos here want the bright news.
Carlo Paalam of boxing and Agatha Wong of wushu, medalists in the 2018 Asian Games in Jakarta, will lead the charge for Team Philippines, which is hoping, to say the least, to match its four-gold haul in 2018.
Paalam, silver medalist in the last Asian Games and the 2021 Tokyo Olympics, will vie in the men's 57kg class, hoping to advance to the Last 16. Mark Ashley Fajardo will see action in the 63.5kg.
On the women's side, Tokyo Olympics silver winner Nesthy Petecio will also see action (57kg) along with fellow Olympian Irish Magno (54kg) and Aira Villegas (50kg).
In boxing, a sport that has delivered 15 Asian Games gold medals for the Philippines, it's always a win-or-go-home affair.
Wong, a charming wushu expert who's hoping to become a doctor one day, will vie in the same event where she bagged the bronze in 2018 – the taijiquan and taijijian all-around, wishing for the same result – or better.
Team Philippines will be scattered in this clean and orderly capital city of Zhejiang province and its outer portions, competing in gymnastics, beach volleyball, chess, Esports, fencing, judo, shooting, skateboarding, taekwondo and swimming.
Kayla Sanchez, who won an Olympic silver and bronze in 2021 while carrying the Canadian colors, will now wear the Philippine flag on her cap when she sees action in the 4x100 freestyle, along with two-time Olympian Jasmine Alkhaldi.
Jarod Hatch will swim in the men's 100m free and Jerard Jacinto in the men's 100m breaststroke. Also stepping on the blocks will be Thanya dela Cruz in the women's 50m breaststroke.
Over the past few days here, damp and cold, Filipinos have seen action in different sports like beach volleyball, rowing, windsurfing, volleyball and women's football starring the stunning Filipinos, who marked their Asian Games debut with a 3-1 win over Hong Kong.
Team Philippines is also pinning its hopes on sports like athletics, where pole vaulter EJ Obiena, the Asian record holder, is tipped to win the gold, and the sports that is more like religion to Filipinos – basketball.
Members of Gilas Pilipinas, whoever got the final call, are scheduled to plane in today from Manila in time for their initial game against Bahrain on Tuesday, then Thailand on Wednesday and Jordan on Saturday.
If things fall into place, the team that always has so much to do with very little time should advance into the medal rounds, and end a drought dating back to 1998 when they took the bronze. For trivial purposes, the Philippines last won the Asian Games gold in basketball in 1962.
Even before the glittery opening rites, graced by the Chinese president, and the world's top sports leaders, some Filipinos are done competing and have headed home, including members of the men's volleyball team.