Senator calls for responsible gun ownership at arms show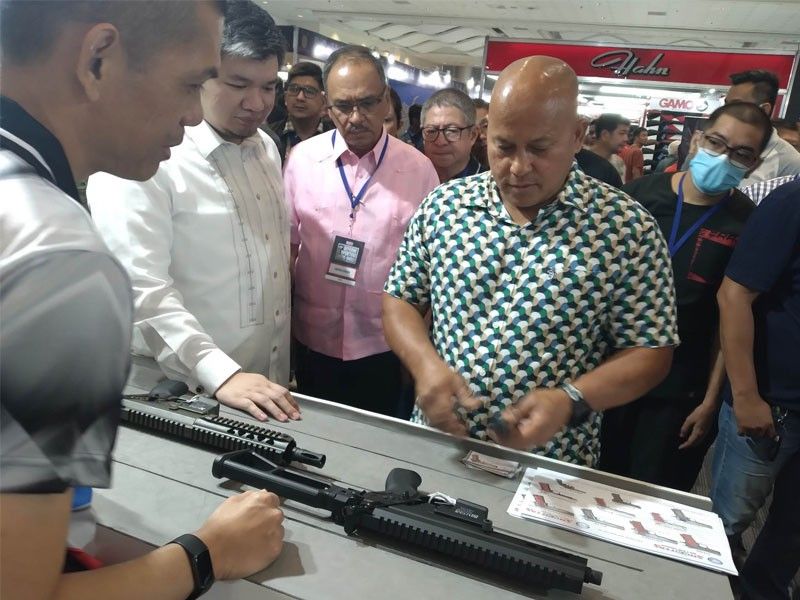 MANILA, Philippines – The growth and development of the firearms manufacturing industry will all depend on the number of educated and responsible gun owners.
This was emphasized by Sen. Ronald "Bato" Dela Rosa as he joined the Association of Firearms and Ammunition Dealers, Inc. (AFAD) in the fight against loose firearms and the promotion of gun safety and responsible gun ownership.
"We must continue educate our netizens about gun ownership. Ating ipropagate nang husto ang responsible gun ownership. Kung lahat tayo magiging responsable, mas marami ang magiging miyembro ng ating gun owners society, not just simple hobbyists and sportsmen. 'Pag ganito, hindi magiging mahigpit ang gobyerno sa mga manufacturer at importer, mas maganda para sa industriya," said Dela Rosa in a short message during the opening of the 29th AFAD Defense and Sporting Arms Show on Thursday at the SMX Convention in Pasay City.
Dela Rosa acknowledged the contribution of the firearms industry not just in creating jobs for Filipinos but also in the growth of the economy.
"Ilang manggagawa ang nakikinabang sa industriya na ito? Mula sa paggawa ng piyesa, accessories and paraphernalia. Yung mga importer natin hindi biro ang naibabayad nilang tax. If the industry is getting better, the economy follows," said Dela Rosa, whose family is noted for being involved in sports shooting.
"My own daughter and my son-in-law are both champion shooters. Kaya kayong masasamang loob na nagbabalak, ayusin ninyo at may paglalagyan kayo," added the former Philippine National Police (PNP) chief in jest.
"On a serious note, we need to help each other, we have to unite and put our best foot forward to help the industry grow, stabilized, and be helpful to nation-building," he added.
For his part, AFAD president Alaric Topacio expressed gratitude to Dela Rosa, other lawmakers and law enforcement agencies for their continued support to the industry and for helping local arms manufacturers and importers.
"Foremost in AFAD mission is to educate every Filipino not just the hobbyist, sportsmen, and private gun owners on how to be a responsible gun owner. From a mere firearms dealer group, AFAD transform into an association lobbying bills to create laws that are beneficial to all stakeholders," stressed Topacio.
Topacio added that aside from the usual activities on renewal of licenses and applications for new registered gun owners, AFAD offers seminars on gun safety, self-defense, security and responsible gun ownership.
The five-day event, which runs until Monday, May 29, offers huge product discounts from exhibitors such as Stronghand Incorporated, Final Option Trading Corporation, Force Site Inc., Lynx Firearms and Ammunition; Tactical Precision Trading, Armscor Shooting Center, Defensive Armament Resource Corp., Topspot Guns and Ammo, Lordman Leathercraft Guns and Ammo, True Weight, Tactics SOG Industries Inc., Trust Trade and PB Dionisio and Co., Inc.
Also in the show are Tactical Corner Inc, Squires Bingham Intl./Armscor, Shooters Guns and Ammo Corp., Nashe Enterprises, Willi Hahn Enterprises, Metro Arms Corporation, R. Espineli Trading, Imperial Guns, Ammo & Accessories, Lock and Load Firearms and Sporting Goods, Pascual Gun Works, Metro Sporting Arms Show, Santiago Fiberforce, Jordan Leather and Gen. Mdse, Magnus Sports Shop, Speededge, Inc, Greyman Elite, Inc., Bonanza/Icarus Shirts, CBX Trading and General Merchandise, among others.