Alex Eala feels the warmth in Miami, meets Heat coach Erik Spoeltra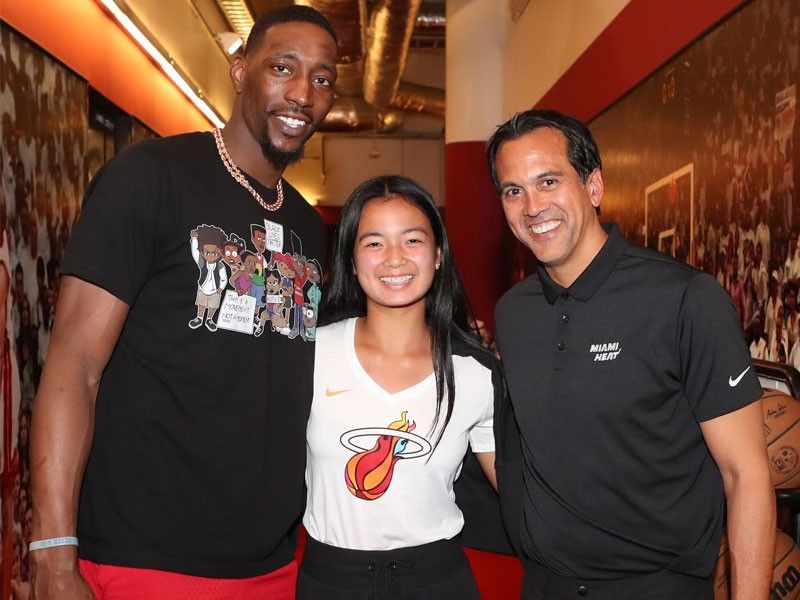 MANILA, Philippines – Filipino tennis and basketball stars shared a rare, beautiful moment together as teen sensation Alex Eala met coach Erik Spoelstra in the backstage of the Heat's NBA game against the New York Knicks Thursday at the Miami-Dade Arena in Florida.
The 17-year-old Eala received a warm welcome from Spoelstra, the seasoned Filipino-American mentor in the NBA, as she dropped by to see the Heat play in the aftermath of her early exit in the prestigious Miami Open the other day.
Spoelstra encouraged Eala, accompanied by her father Mike, to never give up on her rising international tennis aspirations with hopes of seeing her again in the Miami Open next year.
"Come through again in the Miami Open again next year and hit us up next," beamed Spoelstra on her compatriot who's making waves abroad to bring honor and glory to the Philippines.
Eala's pep talk with Spoelstra that also included Heat star center and Team USA stalwart Bam Adebayo proved as a lucky charm with Miami beating New York, 127-120, to climb to 40-34 at No. 7 in the Eastern Conference.
Spoelstra, who won two NBA championships and has been recently named in the NBA's 15 Greatest Coaches, also promised to go see and support Eala in her next Miami tourney.
Eala, WTA No. 219, absorbed a 6-2, 7-5 defeat to Irina-Camelia Begu of Romania in the Miami Open's Round of 128 at the nearby Hard Rock Stadium before her visit to the Miami-Dade Arena.
"A short yet unforgettable run here in the Miami Open. Moving forward and even more motivated to continue my work. See you next year," posted Eala on her social media after gaining a Miami Open wildcard ticket.
A scholar of the Rafael Nadal Academy in Spain, Eala won the esteemed US Open junior championships last year in New York to become the Philippines' first-ever singles Grand Slam champion.
Eala, who is revving up for this year's Rolland Garros, has already won two juniors doubles titles in the 2020 Australian Open and the 2021 French Open with a goal of scaling the women's pro circuit.