Vargas elected president, Buhain secretary-general of Philippine swimming body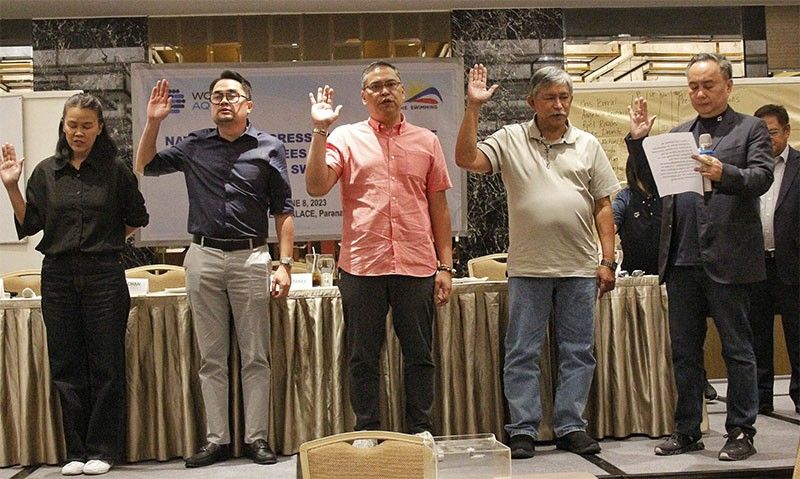 MANILA, Philippines – Swimming patron Michael "Miko" Vargas was elected president of Philippine Swimming Inc. (PSI) during the PSI National Congress and Election held on Thursday at the East Ocean Restaurant in Paranaque City.
The 11-man Board of Trustees unanimously installed the 43-year-old Vargas, the second of the three children of former Philippine Olympic Committee president and boxing chief Ricky Vargas, to lead the association in its "transition year" before the regular election in 2025.
"I'm very happy and proud that you gave me the opportunity to become the head of the swimming association. Of course, I express by gratitude to Cong. Eric Buhain who is the real heart of the association. I am the president and definitely work the best I can, but Cong. Eric preferred to serve all of us, get closer to all stakeholders for the future of swimming," said Vargas, former Customs collector and patron of the swimming program of the Congress of Philippine Aquatics Inc. (COPA) led by Buhain.
The two-time Olympian and swimming legend was elected as secretary-general, while Jessie Arriola, representative of the Visayas region, was voted vice president and diving coach Marie Dimanche as treasurer.
The new executive board was sworn in by POC president Abraham "Bambol" Tolentino, in the presence of the World Aquatics Electoral Board, Atty. Edwin Gastanes (Chairman), POC legal counsel Atty. Wharton Chan, Atty. Marcus Andaya, Atty. Avelino Sumangui (members) and World Aquatics representative Ms. Mae Chen of Malaysia.
"We have achieved the inclusivity we have been hoping for a long time, this is the true essence of our election. Hindi po naming ito tagumpay, tagumpay po nating lahat ang pagbabagong ito," said the Philippine swimming icon and sports hall of famer.
"Our president Miko Vargas has long been a silent supporter of sports, hindi lang sa swimming. With this development, I talked to him to come out because I believe that he will be of great help to our sports," he said.
Before the executive board election took place, an election was held first to select the 11-man Board of Trustees from the 19 regional representatives who were all elected in a series of Zoom meetings and elections in their respective regions, including the National Capital region and sectoral sports which formed by diving, water polo, open water swimming and artistic swimming.
Vargas and Olympian Jessie Lacuna (Area 1) were elected BoT members; Isagani Corpuz and Emmanuel Manialung (Area 2), Buhain and Roel Rosales (Area 3), Cris Bancal and Jessie Arriola (Area 4), Ronald Talosig and Angelica Leonardo (Area 5) and Marie Dimanche (sectoral).
"We like to inform everybody that this new set of officers will serve only for two years or we call it the transition year. Then, after they fix everything, they will conduct their regular election in 2025 with the POC as observer," said Chan.
"Our problem has been reduced. We're very, happy, very democratic everything went through the process, very well represented we really saw the essence of inclusivity," said Tolentino.