Compare your electricity bill with other provinces
After surviving scorching May, brace for hotter June. Weathermen say El Niño will be felt starting this month.
All-day air conditioning and fanning are inevitable. Brace too for higher home electricity bills.
Two factors make electricity costly: usage and power insufficiency.
We can conserve only so much energy. But government must entice more investors in power generation.
The last two huge capacity boosts were 668 megawatts in October 2022 and 668 MW in December 2021. Both were by Aboitiz's GNPower Dinginin.
The Department of Energy expects Luzon demand to jump 1,000 MW this year. Experts forecast more yellow alerts, a mis-color code to mean possible blackouts till at least June 18.
Big generators run on coal, bunker, natural gas, hydro, geothermal. Small ones use solar and wind.
Seven liquified natural gas plants are under construction, the largest by subsidiaries of Meralco, San Miguel Corp., Ayala Corp., Walter Brown.
Compare your electricity bill with other provinces. See table of March 2023 billings of 55 distribution utilities and electric cooperatives (out of 152) with readily available data on websites.
They range from P7.92 per kilowatt-hour, La Union to P18.78, Surigao del Sur.
But they have a similarity. More than half their charges are generating costs which they merely pass on to customers. The largest distributor Meralco, dependent on eight generators, is among the lowest one-sixth of the sampling.
Distributors like Meralco and Aboitiz can source power from affiliate generators, but not to exceed 50 percent of supply. Subsidiaries supply only nine percent of Meralco's power.
Meralco's One Energy Inc. is building an LNG plant in Atimonan, Quezon. But to sell to mother Meralco, One Energy must first win a competitive selection process which ERC must approve.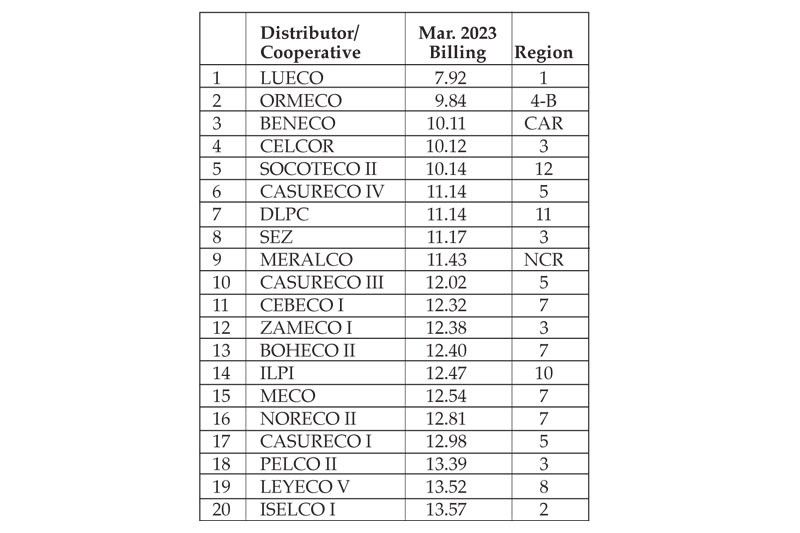 * * *
Luzon's 500-kiloVolt Hermosa-San Jose transmission line is now onstream. The National Grid Corporation of the Philippines energized it on May 27 to further improve reliability of the Luzon backbone.
Bulk power from Hermosa, Bataan will zip through Pampanga to San Jose, Bulacan on to Metro Manila and surrounding provinces. NGCP rushed the work 24/7.
With the new transmission line is construction of the Hermosa Substation for better voltage regulation and power transfer from existing
230kV facilities in the area.
ERC provisionally approved NGCP's project for P10.2 billion. But it allowed only partial cost recovery of P19 million, less than one percent.
NGCP prioritized urgency and set aside for later the issue of ERC approvals of cost recovery.
"Our priority has been and will always be doing what's best for the public," said stockholder Henry Sy Jr., former president-CEO. "Financial considerations can take a backseat and be threshed out later."
Sy sought to correct "misimpressions of consumer shortchange by rate computations."
NGCP is to finish more projects in Visayas-Mindanao: "Stakeholders can be assured that we will continue grid improvement, expansion and reinforcement for reliable transmission."
* * *
Follow me on Facebook: https://tinyurl.com/Jarius-Bondoc