Smog blankets Metro Manila, nearby provinces
September 23, 2023 | 8:30am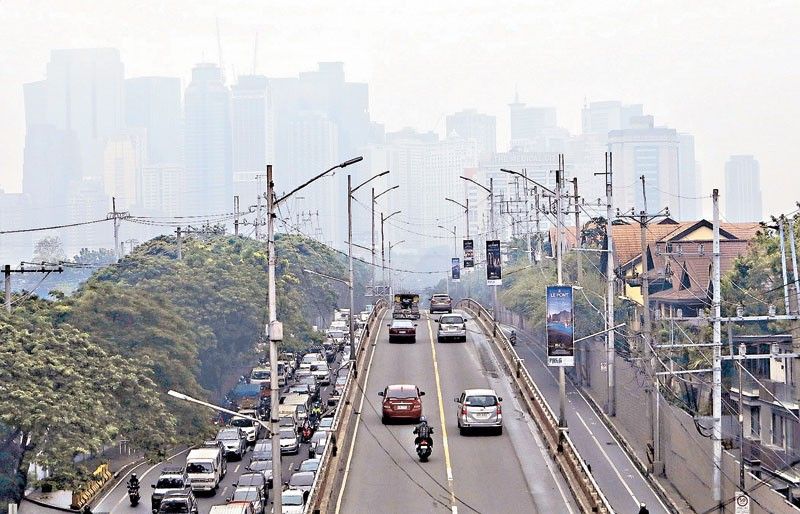 MANILA, Philippines — Pollution-related smog smothered Metro Manila residents yesterday, leading to some local government units suspending classes due to poor air quality and hazy visibility, while provinces surrounding Taal Volcano experienced volcanic smog.
Data from the Department of Environment and Natural Resources (DENR) showed air quality in some parts of Metro Manila was deemed "acutely unhealthy" for residents.
The DENR said that air quality index (AQI), which monitors six criteria pollutants to determine how clean or polluted the air is, reached as high as 217 points in Parañaque City, 141 points in Pateros and 128 points in Makati – exceeding the guideline value of 35 micrograms per normal cubic meter (µg/Ncm).
The smog "may be primarily attributed to emissions of heavy vehicular traffic especially during rush hour," the DENR-Environmental Management Bureau said.
Science Secretary Renato Solidum said what was over Metro Manila was not vog but just plain smog brought by thermal or temperature inversion.
He said that vog or volcanic smog was only present in the atmosphere over Batangas but not in Metro Manila.
"It's not about Taal Volcano," Solidum stressed.
"It's not vog, it's smog. Not related. But the smog in Metro Manila can affect the health. When outdoors, wear masks. When staying indoors, close the doors and windows," he said during a briefing.
The Philippine Atmospheric, Geophysical and Astronomical Services Administration explained that meteorological conditions in parts of Luzon, which includes the National Capital Region, Calabarzon and some parts of Central Luzon, were conducive for haze or smog formation.
For its part, the Philippine Institute of Volcanology and Seismology (Phivolcs) noted that volcanic smog from Taal was drifting west-southwest of the volcano, not heading toward Metro Manila.
Still, volcanic smog has lingered over Taal Volcano since Thursday as sulfur dioxide emissions reached 4,569 tons.
Vog has been affecting the Taal region since the first week of September amid continuous degassing and upwelling at the main crater lake.
State volcanologists said that acid rain could also be generated during periods of rainfall, causing damage to crops and affecting metal roofs of houses and buildings.
Phivolcs said that Alert Level 1 or abnormal conditions still prevail over Taal Volcano.
In an advisory, the Office of Civil Defense warned Metro Manila residents and those living near Taal Volcano to reduce exposure and stay indoors with closed doors and windows.
It added that the public should seek medical attention in case of emergency and monitor advisories from LGUs and health offices.
The Department of Health-Calabarzon has declared a "code white alert" due to gas emissions from Taal Volcano. The code white alert was implemented starting Thursday and will be enforced until Sunday.
Code white alert status refers to the readiness of the hospital workforce such as general and orthopedic surgeons, anesthesiologists, internists, operating room nurses, ophthalmologists and otorhinolaryngologists to respond to any emergency situation.
Suspensions
A number of local government units suspended classes yesterday due to the smog that covered Metro Manila.
The Manila city government suspended "in-person and face-to-face classes" in all levels of public and private schools, as well as work in city hall and its satellite offices starting 1 p.m., according to an advisory from the Manila Public Information Office.
Excluded from the work suspension were "agencies whose functions involve the delivery of basic and health services, preparedness/response to disaster and calamities, and/or the performance of other vital services," it noted.
The Quezon City government also suspended afternoon classes in all public schools, as it advised the public to stay in their homes and limit outside activities.
It also recommended the wearing of face masks.
"Go to the nearest health center or hospital in case you experience difficulty in breathing or other conditions due to the volcanic smog," it added.
San Juan City Mayor Fracnis Zamora suspended classes in all levels in public and private schools yesterday.
Marikina Mayor Marcelino Teodoro suspended classes in the city on Friday and whole day today in all levels, in both public and private schools, citing health risks posed by the smog. The local chief executive urged constituents to stay indoors as much as possible.
Classes in Caloocan, Malabon, Valenzuela and Navotas were suspended.
Caloocan and Malabon declared afternoon class suspensions in all levels for both public and private schools, with the Caloocan government also suspending outdoor activities in the city for precautionary measures.
In Navotas, the city's disaster risk reduction and management office recommended the suspension of classes to ensure the health and safety of students.
Valenzuela suspended classes in all levels for both public and private schools, as well as work in government offices in the city at 2 p.m.
The local government also canceled activities scheduled today.
After the suspension of face-to-face classes, Las Piñas City Mayor Imelda Aguilar also approved the suspension of government work at 1 p.m. yesterday.
"However, agencies involved in delivering basic and health services, disaster preparedness and response and other vital services will continue operations. This ensures that the public's essential needs will be met even as precautionary measures are in place," read a statement from the Las Piñas City public information office.
The local government units of Muntinlupa, Parañaque, Pasay and Taguig also announced the suspension of classes in all levels, both private and public.
In Bulacan, the local government units of Bocaue, Marilao and Santa Maria suspended classes in the afternoon on Friday, upon the recommendation of the local disaster risk reduction management office.
"The meteorological conditions this morning (NCR, Calabarzon, and some parts of Central Luzon) are conducive for haze or smog formation. This occurs when very small particles get trapped close to the surface due to the presence of a thermal inversion, high humidity and calm wind conditions. These floating minute particles in the air could be from smoke, pollutants or volcanic aerosols," according to an advisory from the Department of Science and Technology.
Courts
The Supreme Court on Friday suspended work in several courts in Batangas and Cavite due to the emission of hazardous volcanic smoke or vog from Taal Volcano.
In an advisory, the SC Public Information Office announced the suspension of work in Taal Regional Trial Court Branch 86, Taal-San Nicolas 7th Municipal Circuit Trial Court, Alitagtag-Sta. Teresita 3rd MCTC, Lemery RTC Branch 5, Lemery-Agoncillo 6th MCTC and San Luis MTC, in view of the vog emitted by Taal Volcano in Batangas.
Suspension of work was also declared in all courts in Trece Martires City, General Trial City and Municipality of Tanza in Cavite. All Municipal Trial Courts in cities and the Office of the Clerk of Court in Dasmariñas were also suspended.
Flights
The Media Affairs Division of the Manila International Airport Authority (MIAA) said flight operations at the Ninoy Aquino International Airport remain normal despite the presence of volcanic smog in the air caused by the elevated emissions of sulfur dioxide from Taal Volcano.
MIAA said it is closely monitoring the situation and assures the air riding public that any disruptive effect of the smog to flight operations shall be advised accordingly.
It advised passengers and airport workers, especially those who are assigned in open areas of the complex, to wear face masks as exposure to volcanic smog poses health hazards.
Philippine Airlines flights to and from Manila were not affected by the Taal emissions, amid the ongoing smog caused by the volcano.
"Our flights to and from Manila remain unaffected by the ongoing smog caused by Taal volcano emissions," PAL spokesperson Cielo Villaluna said.
"As a precautionary measure, we are avoiding flight paths near the vicinity of Taal Volcano. We continue to monitor the situation as safety remains our top priority and we will update our clients on further developments," she added.
Meanwhile, the Media Affairs Division of the MIAA said as of 8:20 a.m. Friday, Cebu Pacific flights 5J 321//322 from Manila-Daraga-Manila were cancelled due to unfavorable weather condition in the area.
The Civil Aviation Authority of the Philippines issued Notice to Airmen B3748/23 Revising B3734/23 as of 9:40 a.m. Friday Sept. 22, 2023.
In its advisory, it said that Taal Volcano is on on Alert Level 1 (low level unrest). Flight operations are advised to avoid flying close to the volcano's summit as airborne ash and ballistic fragments from sudden explosions may pose hazards to aircraft up to 10,000 ft. – Michael Punongbayan, Rhodina Villanueva, Ghio Ong, Janvic Mateo, Emmanuel Tupas, Mark Ernest Villeza, Ramon Efren Lazaro, Nillicent Bautista, Rudy Santos