Probes and inquiries by the Senate of the 19th Congress
September 27, 2023 | 1:09pm
+ Follow Story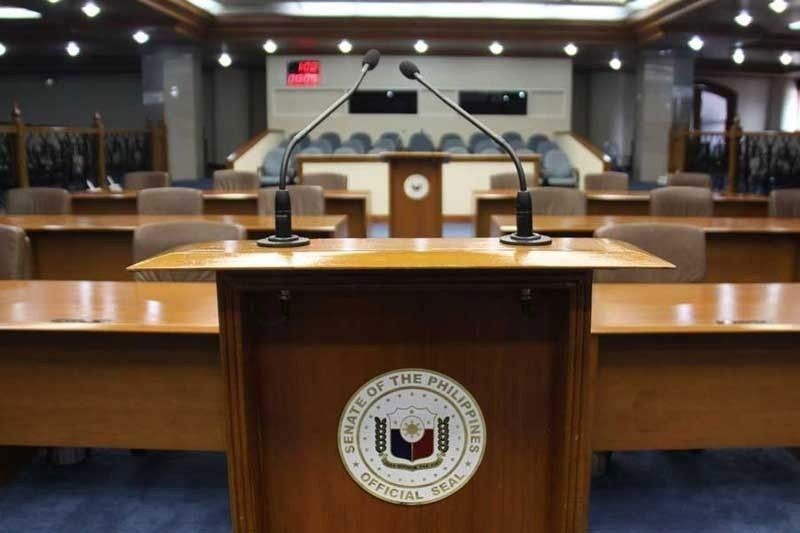 1 day ago
A Senate panel conducts its inquiry on the prize fund tax remitted by the Philippine Charity Sweepstakes Office (PCSO).
The Senate committee on games and amusement subcommittee is chaired by Sen. Raffy Tulfo.
3 days ago
A Senate panel is conducting a Motu Proprio inquiry into the severe battery and maltreatment by employers of kasambahay Ms. Elvie Vergara resulting to her partial blindness and other injuries.
The public hearing headed by the Senate committee on justice and human rights is presided by Sen. Francis Tolentino.
September 18, 2023
The Senate Committee on Banks, Financial Institutions and Currencies, conducts an inquiry, in aid of legislation, into the proliferation of bank-related scams, unauthorized online lending schemes and other fraudulent financial activities.
The Senate panel is chaired by Sen. Mark Villar.
September 13, 2023
The Senate is conducting a public hearing into the proposed 2024 National Expenditure Program of the Technical Education and Skills Development Authority (TESDA).
The public hearing commenced at 1 p.m.
August 7, 2023
A Senate panel is set to probe the recent spate of flooding brought about by monsoon rains and typhoon Egay.
Sen. Ramon Bong Revilla Jr, chair of Senate Committee on Public Works, says the panel will examine the country's flood control efforts and program on Wednesday, August 9.
Among the officials invited to attend the investigation are officials from the Department of Public Works and Highways (DPWH) and the Metropolitan Manila Development Authority (MMDA), represented by DPWH Secretary Manuel Bonoan and MMDA chair Romando Artes.
They will be asked to explain why flooding seems to worsen despite the hundreds of billions of pesos invested into flood control and also discuss the concrete actions to mitigate flooding.
May 15, 2023
The Senate defense, government corporations, ways and means, and finance panels start hearing into proposals for reforms in the pensions of military and uniformed personnel.
Finance Secretary Benjamin Diokno has earlier said the current pension program for soldiers and police officers is "not sustainable" and must be reformed to avert "a major fiscal collapse."
Under the Marcos Jr. administration's proposal, which Diokno said has been approved by the defense and interior departments, all active and new recruits will be required to contribute towards their pension fund.
Follow this thread by Xave Gregorio for more updates.
May 7, 2023
Sen. Imee Marcos says she filed a resolution seeking a legislative inquiry into the effect of Artificial Intelligence on job displacement in the Business Process Outsourcing and original equipment manufacturer.
Marcos, who chairs the Senate committee on Social Justice, Welfare and Rural Development, adds in a statement posted on her Facebook page that this should be studied early to determine where AI can help the workforce.
April 17, 2023
The Senate public order panel startsits inquiry into the killing of former Negros Oriental Gov. Roel Degamo, alleged to have been masterminded by suspended Rep. Arnolfo Teves Jr. (Negros Oriental) who has yet to return to the country since he left for the US four days before the massacre that killed the local chief executive and eight others.
Follow the Senate hearing here.
March 7, 2023
Senate Committees on Justice and Human Rights, with Public Order and Dangerous Drugs, starts legislative inquiry into death of Adamson University student John Matthew Salilig, a hazing victim.
February 24, 2023
Sen. Nancy Binay has asked the Senate's Committee on Tourism to conduct a legislative probe into the reported plan of the Bureau of Corrections to build a facility at the Masungi Georeserve.
Binay has filed Senate Res. No. 495 on Thursday, where she said that "while the initiatives of the BuCor to have a new headquarters and housing for its personnel is reasonable, it is important to weigh the possible consequences of building its headquarters in an Ecotourism sit like the Masungi Georeserve, which may affect the environment and tourism in the country."
January 30, 2023
Sen. Raffy Tulfo says he filed Senate Resolution No. 448 seeking an inquiry in aid of legislation to "revisit, re-examine and review the existing Bilateral Agreement and Standard Employment Contract governing OFWs in Kuwait."
He says in the resolution that the investigation aims to establish "stricter policies, preventive measures and applicable sanctions or ban in the deployment of OFWs of Kuwait."
This came a week after the burned body of OFW Jullibee Ranara was found in a dessert in Kuwait.
Sen. Raffy Tulfo seeks inquiry to review the labor agreement between the Philippines and Kuwait following the death of OFW Jullebee Ranara | via @XaveGregorio pic.twitter.com/wqZkjeLo9t

— Philstar.com (@PhilstarNews) January 30, 2023
January 23, 2023
The Senate Ways and Means Committee resumes its legislative hearing into the Philippine Offshore Gaming Operations (POGOs) industry.
January 19, 2023
Senate Blue Ribbon committee finds that laptops procured by the Department of Education were overpriced by at least P979 million. Panel recommends criminal and administrative charges against senior DepEd and PS-DBM officials. — Xave Gregorio
September 22, 2022
Sen. Risa Hontiveros calls for a legislative probe into the incidents of violence, land-grabbing, illegal logging and quarrying in Masungi Georeserve.
"Nakakabahala na ang paulit-ulit na iba't ibang uri ng karahasan na nararanasan ng mga tagapangalaga ng Masungi. We, in government, have a duty to defend the interest of this conservation site as it is a protected area established under Republic Act 11038 or the Expanded Integrated Protected Area Systems Law. We cannot take our environmental defenders for granted," Hontiveros says.
September 21, 2022
Senate constitutional amendments and revision of codes panel continues its inquiry on proposals to amend or revise the Constitution. Among the resource persons present today is Chief Presidential Legal Counsel Juan Ponce Enrile.
September 15, 2022
The Senate committee on public order and dangerous drugs conducts an inquiry into the recent kidnapping cases that have alarmed citizens.
The panel's investigation stemmed from two resolutions, including one by Sen. Grace Poe who described the recent abduction cases reported in the news and on social media as "another kidnapping wave."
It is unclear how rampant kidnapping has become recently as different groups and agencies have provided different and conflicting figures. — Xave Gregorio
September 8, 2022
Senate Blue Ribbon committee recommends administrative and criminal charges against former Agriculture Usec. Leocadio Sebastian, former SRA administrator Hermenegidlo Serafica, and SRA board members Roland Beltran and Aurelio Gerardo Valderrama Jr.
The Blue Ribbon panel is recommending that Sebastian, Serafica, Beltran and Valderrama be slapped with graft, smuggling and usurpation of official functions charges. — Xave Gregorio
September 6, 2022
Executive Secretary Vic Rodriguez appears at the Senate hearing into the sugar crisis and apologizes that senators resorted to issuing a subpoena to summon him.
He tells the panel: "I would like to sincerely apologize if we have to resort to the issuance of a subpoena to compel my presence today. I have no intention whatsoever to disrespect the honorable members of the Senate and the Senate as an institution. And that's why I learned when a subpoena was issued, I don't want to, but I have to inform His Excellency [President Ferdinand Marcos Jr.] even if he is on his state visit."
September 6, 2022
The Office of Sen. Francis Tolentino says Executive Secretary Vic Rodriguez has arrived at the Senate after the Senate Blue Ribbon Committee issued a subpoena against him, in connection to the legislative inquiry into the sugar crisis.
AFTER THE ISSUANCE OF SUBPOENA, ES VIC ARRIVED AT THE SENATE BRC HEARING

Isang oras matapos maglabas ng subpoena ang Senate Blue Ribbon Committee kay Executive Secretary Vic Rodriguez, dumalo sa senado si ES Rodriguez upang humabol sa pagdinig sa isyu ng pag-angkat ng asukal. pic.twitter.com/SEDXAhRZQY

— Francis Tolentino (@SenTolentino) September 6, 2022
September 6, 2022
Sen. Grace Poe says the Senate public services committee hearing into spam and scam text messages proliferation has been moved to Thursday, 1:30 p.m. from Wednesday 10:00 a.m.
August 31, 2022
Sen. Risa Hontiveros seeks a legislative inquiry into multiple allegations of sexual harassment committed by educators.
The lawmaker says they aim to create safe spaces for students that are conductive to learning and making perpetrators accountable for their actions.
"Sexual harassment cases brought up to education institutions' notice must be resolved in a transparent, pro-active, and timely manner in order to ensure the swift delivery of justice," she adds.
Sen. Risa Hontiveros files a resolution asking for a Senate probe into multiple allegations of sexual harassment in different schools. Hontiveros says her Senate panel will conduct a hearing on this next week | via @XaveGregorio

Story soon on https://t.co/3UWeeHiNED pic.twitter.com/unncWTUhpw

— Philstar.com (@PhilstarNews) August 31, 2022
August 17, 2022
Prompted by Senate President Juan Miguel "Migz" Zubiri's earlier speech, Sen. Francis Tolentino says Senate Blue Ribbon Committee will begin its probe into the sugar importation mess on August 23.
Also on the agenda for that week is the issue of DepEd's overpriced laptops, a hearing is set for August 25. — Franco Luna
Follow this thread for updates on hearings and inquiries by the Senate in the 19th Congress
Photo: This file photo shows the session hall of the Senate of the Philippines in Pasay City